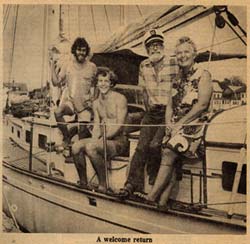 Family World Cruise ................Second World Cruise

Ranulf bought the Merry Maiden in Florida in May 1969 to take his family for a circumnavigation of the world. His wife Annette and three of their four children came along. This cruise takes five and a half years.

The youngest member of the crew (soon after returning from the first cruise) then made plans for a World Cruise with his father's yacht. Advertisements were run in Cruising World and some local publications. There were a few radio spots, something similar to press releases, very spur-of-the-moment fun news.

On a typewriter he created a flyer that was copied at a print shop on rather cheap paper. This flyer was sent to interested people and was also put up on various bulletin boards at yacht clubs and marinas.