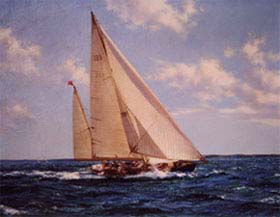 RACING

CRUISING

VERSATILITY





"Versatility at Its Best" was how Richard Henderson described Merry Maiden in his book: Philip Rhodes and His Yacht Designs

Merry Maiden was designed in 1946 by Philip Rhodes and built in New Bedford, Massachusetts by the Palmer Scott Boat Yard.

Irving Pratt was an avid sailor and a Commodore of the New York Yacht Club. Pratt kept the Merry Maiden on Long Island in Cold Spring Harbor. Her first eleven years were spent cruising and racing along the East Coast from New York to the Gulf of St. Lawrence as well as five Bermuda races. In the 1948 Bermuda race she won class B and was third in the race.

Mr. Maguire, the second owner, purchased Merry Maiden in 1958 and sailed her throughout the Great Lakes while keeping her moored at the Detroit Yacht Club.

Ranulf, a mechanical engineer who worked at M.I.T., purchased the Merry Maiden in 1969 and sailed her around the world with his family, a cruise lasting five years and eight months.

In 1976, Ranulf's youngest son borrowed the Merry Maiden for a seven year cruise from Salem, MA to Seattle, WA, by way of Australia, thereby crossing the Pacific two more times.

We are not sure about this rough estimate of Merry Maiden's entire history but it might be fair to guess that she has sailed over 300,000 miles!